Site speed measurement using PageSpeed and LightHouse has serious disadvantages. Using Gemini, one can monitor real user performance consistently. With the digital revolution, a lot of the users coming on the online sites are first time users. For them, the first impression is the lasting impression. However, these users will not let you know their feedback on the website. Even if you ask for it, hardly any users will submit. One needs to have a monitoring solution in place for tracking technical experience of online users. Google has released three different tools and places where one can see various performance numbers related to user experience.
Lighthouse –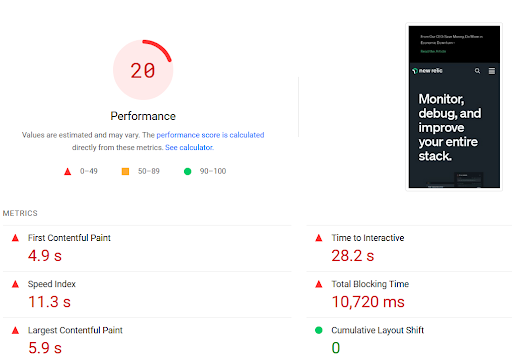 Lighthouse is a widely used tool by users which gives you a score. The tool gives you analysis of the opportunities for improvement and compliance to the best practices. Many companies are using Lighthouse scores to track the performance.
The biggest issue with Lighthouse is, the score is just for one URL which ran at a single time. You can not measure the score of any URL which requires some kind of authorisation to access. Lighthouse currently looks into six different metrics and only two of them are core web vitals. SpeedIndex is available only on the synthetic tests and TTI and TBT are experimental metrics only with no clear definition available. The scoring methodology changed multiple times over the last few years and that has confused many developers and executives across companies. There are now a few hacks that can bring the Lighthouse score into the green, even if there is no noticeable improvement in the user experience.
Page Speed –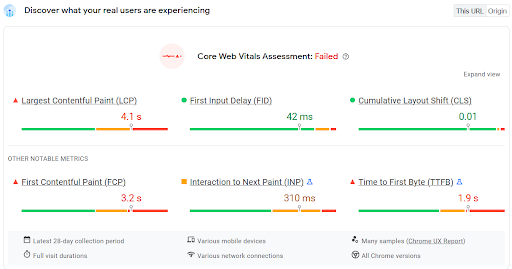 PageSpeed tool is an integration of the Lighthouse report from a lab and Chrome User Experience Crux DB from the field. In the case of the field report, the data is only collected by Google's Android and Chrome browsers. The URLs must have significant traffic for the data to be reported. The tool does not differentiate between various page templates nor does it offer similar url grouping. The main challenge is that these data are available with a delay of 28 days.There is no real time data available. So monitoring the performance is not possible.
Search Console –

Search console also reports core web vitals for individual page URL's. However here as well, you get to see only those URL's which are indexed by the Google search. So URL's which require authentication will not appear, as Google bot can not reach there. E.g. Cart or checkout in E-commerce sites.
Similarly, while individual URL's are displayed with core web vitals compliance, no grouping is available. No real time data is available. Thus this tool is not suitable for monitoring needs.
Gemini Advantages –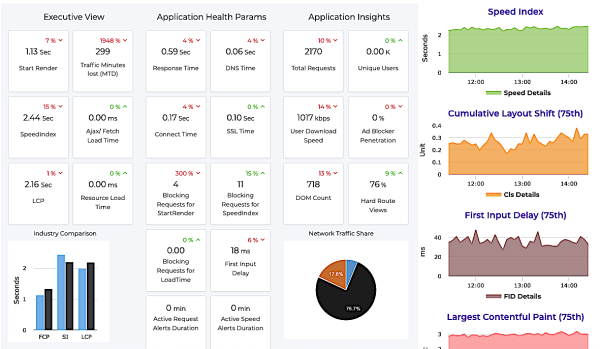 Gemini was designed and developed based on continuous research and feedback from real user trends. The tool has been there for close to 6 years and has cumulatively done more than 6 Billion paid page inspections till date. Gemini monitors about 37 different and relevant site speed parameters in real time and across all browsers, all locations for all URL's whether logged in or not.
Besides capturing the performance, it has an intelligent engine which allows you to generate trends and auto alerts based on deviation in any trend. The auto alerts will not just report speed or traffic degradation in real time but will also do various system correlations to pinpoint the root cause. The tool automatically groups URL's across similar templates and shows you one number for them.
Thus, all product pages of an e-commerce site are monitored with a single node number. Apart from the core site speed details, the tool also detects end user javascript errors and any malicious web bots landing on the site. Most of these bots are detected even if the clients have highly skilled bot managers on the website.
The biggest advantage of Gemini is its ability to monitor real user screen painting experience across SPA/ PWA sites using real user SpeedIndex. Only a couple of companies have managed to measure SpeedIndex in real users. With SpeedIndex, one can accurately monitor all the elements of the page and not just the largest Content.
With Gemini, a company can monitor not just the site speed but the entire user experience spectrum from the front end side and can have a reliable way to detect issues and alert the customers. If you are interested in a free trial please contact us for more details.